Motorcity introduces CO.ME.T. X4 Ariel Platforms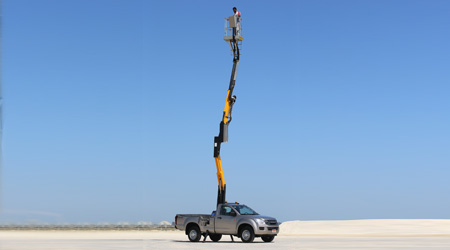 Bahrain, October 2014 - Motorcity, the sole distributor of wide range of international commercial vehicles in the Kingdom of Bahrain, has introduced the all the new Pick-Up mounted CO.ME.T. X4 Ariel platforms.
Volvo World Golf Challenge, 4th Qualifier winners announced.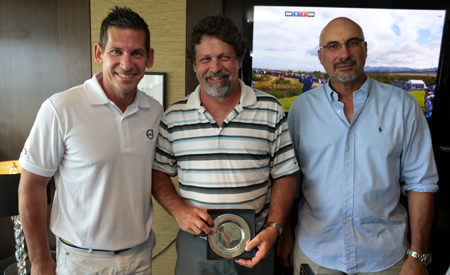 Bahrain, September 2014 - The 4th qualifier round of Volvo World Golf Challenge (VWGC) took place on 27th Sept 2014 at Royal Golf Club, Riffa Views. Every year, participants from over 40 countries take part in this global tournament. A journey that takes players from all around the world to a World Final, where they have the chance to play in the Volvo Golf Champions – the European Tour's tournament of champions.
Motorcity's Ramadan Raffle Winners Announced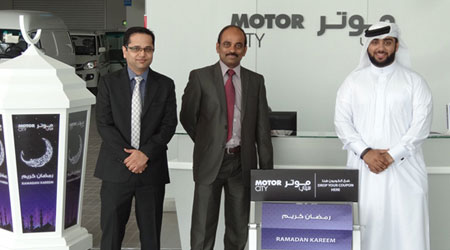 Bahrain, July 2014 - Following the successful campaign during the holy month of Ramadan, Motorcity has announced the lucky winners of Ramadan raffle contests. The final draw took place on Sunday 27th July 2014 at 10.30am at Motorcity's Sitra showroom and at 11am in Motorcity's Nuwaidrat showroom
Motorcity Commercial Division launches aggressive Ramadan Campaign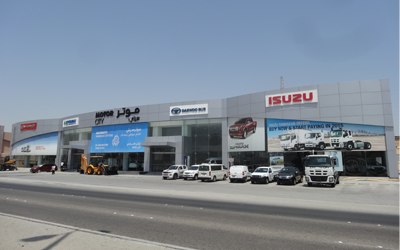 Bahrain, July 2014 - Motorcity, the sole distributor of wide range of Commercial Vehicles and Equipment such as Isuzu, Hino, CMC, Hyundai, Kinglong and Daewoo in the Kingdom has launched its Ramadan Campaign offering
Everybody is a Winner with Motorcity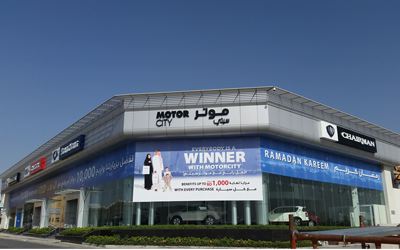 Bahrain, June - July 2014 – Motorcity, the sole distributor of wide range of world class passenger vehicles brands such as Volvo, Subaru, Citroen, Ssangyong, Chery and Luxgen in the Kingdom has launched its Ramadan Campaign offering benefits with every purchase ​
PASSENGER

CARS

Sitra

Building No. 4018, Road No. 469,
Block No. 604, Al-Qarya.
Post Box No. 3044
Tel : (+973) 17 500 900 
Fax: (+973) 17 736 669
Opening Hours:
Saturday - Thursday,
8.00 AM to 7.00 PM

Sanad

Building No. 1266, Road No. 4130,
Block No. 921, Sanad – Buhair.
Post Box No. 3044
Tel : (+973) 17 500 900 
Fax: (+973) 17 626 933
Opening Hours:
Saturday - Thursday,
8.00 AM to 7.00 PM
COMMERCIAL

VEHICLES

Nuwaidrat

Building No. 1489, Road No. 2630,
Block No. 626, Nuwaidrat,
Sh.Jaber Subah Highway, Sitra
Tel: (+973) 17 500 900 
Fax: (+973) 17 702 704
Opening Hours:
Sat-Thu
8.00 AM to 6.00 PM
SERVICE

CENTRES

Ma'ameer – Service

Building 22, Road 15, Block 635, Ma'ameer

Tel: (+973) 17 500 900 

Fax: (+973) 17 701 551

Opening Hours (Commercial):

Saturday - Thursday, 7:00 AM to 5:00 PM

 

Opening Hours (Passenger):

Saturday - Thursday,

8:00 AM to 6:00 PM

Parts Ma'ameer

Building 551, Road 3417, Block 634, Ma'ameer

Tel: (+973) 17 500 900 

Fax: (+973) 17 264 996

Opening Hours:

Saturday - Thursday,

7:00 AM to 5:00 PM

Motorcity Parts Salmabad

Building 1051, Road 419, Block 704, Salmabad

Tel: (+973) 17 500 900 

Fax: (+973) 17 879 190

Opening Hours:

Saturday - Thursday,

7:00 AM to 5:00 PM

Motorcity Parts Muharraq

Building 1239, Road 10, Block 215, Muharraq

Tel: (+973) 17 500 900 

Fax: (+973) 17 340 140

Opening Hours:

Saturday - Thursday,

7:00 AM to 5:00 PM

 

Motorcity Parts Arad


Bldg No. 1194, Road No. 4330, Block No. 243, Arad

Tel: (+973) 17 500 900 

Opening Hours: 
Saturday - Thursday,

7:00 AM to 5:00 PM
 
Motor City W.L.L | CR 57331